CIMT2021 (the 17th China International Machine Tool Exhibition), sponsored by China Machine Tool Industry Association, was successfully held in Beijing China International Exhibition Center (NEW Hall) from April 12-17, 2021. During the exhibition, the audience was more than expected.
The author combed part of the exhibits for you to understand the exhibition from one side. This article is difficult to describe the whole exhibition, but it can be seen the tip of the iceberg, so as to map the development trend of the machine tool industry. It should be noted that if there are any mistakes or omissions caused by improper understanding of the characteristics of the exhibits, please correct them.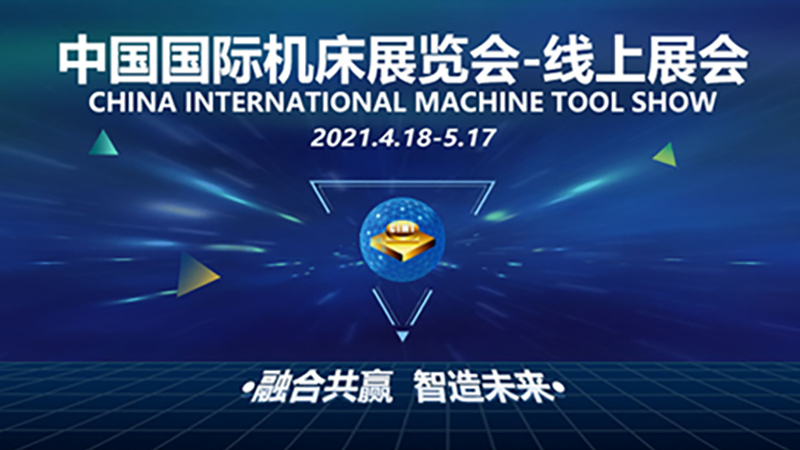 More than 1,500 exhibitors from 27 countries and regions around the world gathered for the exhibition, with a total exhibition area of 135,000 square meters, covering eight permanent pavilions and four temporary pavilions.
Exhibits are full of varieties and specifications. Tens of thousands of exhibits cover the main product categories of the industrial chain, such as machine tool hosts, NUMERICAL control systems, functional components, machine tool appliances, measuring instruments, cutting tools and fixtures, accessories and so on. Among them, the main machine products include metal cutting, metal forming, gear processing, special processing, heat treatment, coating and other equipment.
The level of exhibits reflects the development trend of the world's current manufacturing technology, international well-known manufacturers and their brand products are all present, and the latest and most advanced development achievements in the world are presented. World famous corporations have DE LaoBo horse fine machine in giessen, Mr Mark, lattice, waves, GF processing scheme, mazar-e-sharif grams, big Wei, makino, haas, hardinge, heck, Nicholas crea, ef, doosan, hyundai kia (,) and sarwar Nineveh, male g, ABB, Siemens, Hyde han, fanuc, mitsubishi, THK, silver, Zeiss, rainie salt, horse Persian, Mr Card, etc. Within the territory of the main exhibitors are general technology group, clips, qinchuan group, jinan, wuhan heavy, north, Shanghai machine tool, a machine tool machine, cape CNC zhejiang hangzhou, chongqing, baoji machine tool machine tool, Beijing carved, Haitian seiko, spark machine, shandong's Germany, vectra heavy industry, gree intelligence, nantong sheng genesis, PuShenNing river, shenzhen, guangzhou CNC, huazhong CNC, fujian winona, Hanjiang machine tool, Kate Seiko, Nanjing technology, Shanghai tools, Zhuzhou diamond, dazu laser, Bond laser, Dineng laser, etc., not to list one.
Turning machine is a large category in the exhibits, distinctive technical characteristics.
1. There are many high-precision exhibits, and exhibitors pay more attention to accuracy retention. Thermal stability and thermal symmetry structure design are adopted by more and more exhibitors. Such as the north big kuma lathe using heat affinity technology, good thermal stability. For example, the thermal stability and temperature control symmetrical structure design of Demajisen fine machine. Such as Longze can correspond to the thermal displacement of the bed structure design, so as to ensure high precision and continuous precision exhibits. Equipped with measuring systems for improved accuracy, such as emag's VT 4-4 vertical lathe, all straight spindles have direct measuring systems. Some exhibits adopts natural granite and artificial marble, hydrostatic spindle, hydrostatic guide rail, so that the machine tool has good thermal stability, vibration resistance and rigidity, to ensure that the machine tool to obtain high accuracy, such as Jiangsu Boguintelligent Hard T100 high precision Hard turning machine positioning accuracy ≤1μm, Pusheningjiang micro-T400 high-precision lathe parts size accuracy ≤2μm, roundness ≤1μm, roughness ≤Ra0.2μm, DACHang Hua Jia Moore Nanotech 250UPL ultra-fine lathe surface accuracy ≤0.1μm, roughness ≤Ra2.0nm, etc..
2. High degree of automation. For example, EMag's VT 4-4 vertical lathe has a double knife tower, which can be processed on both sides at the same time. The knife tower integrates the workpiece holder to realize automatic loading and unloading of the workpiece. Indyx's INDEX MS24-6 multi-spindle automatic lathe has 6 spindles and 12 tool rests for automatic milling, drilling, tapping and deburring by linear manipulator or robot loading and unloading. Mazak's QTC-200MSY L+GL horizontal turning center is equipped with truss manipulator to realize automatic loading and unloading of various workpiece. Murata machinery MT200 opposite double spindle turning center adopts opposite double spindle, upper and lower cutting tower, equipped with power tool and door type mechanical arm, automatic loading and unloading. J1vl-600st CNC vertical lathe with upper and lower tool rest, can process both sides of the brake disc at the same time. Jiangsu Dicke dKKK-ST80 double spindle CNC lathe with automatic loading and unloading device. Shaanxi Norbert XKNC50GL automatic CNC lathe with truss manipulator grab workpiece, automatic loading and unloading, etc.
3. Special. Targeted strong, excellent professional performance. Such as Jinan one machine WL-800 aluminum wheel lathe, Shandong Yishui oil cylinder special lathe, Baoji machine bed for automobile axle processing CQ7530 CNC horizontal lathe, Shenyang zhongyi intelligent DVL480 is suitable for automobile brake disc, wheel, brake drum, flywheel and other rotary parts processing.
III Boring and milling machine tools
Many exhibits use advanced transmission, control, measurement and other technologies. Especially five axis machining center, with a high technical level.
1. Exhibits are generally of high accuracy, and effective measures should be taken to improve the accuracy retention. Such as Beijing Jingdiao JDGR400T, using full closed-loop feedback, with in-machine measurement and correction function; Cooling key heating parts such as spindle, bearing seat, turntable motor and nut in all directions to ensure thermal stability of machine tool; It has "0.1μm feed and 1μm cut" capability. Okuma's MP-46V vertical machining center enables mirror machining with precisely controlled thermal displacement and thermal compensation technology. Makeno's E500 high-precision rig-up and unique spindle cooling technology guarantee continuous 26-hour machining with position accuracy within 0.0027mm. Dhm-63 decanter of Nantong Guosheng adopts ball screw center cooling cycle to ensure the stability of machine accuracy. In addition, the exhibits adopts natural granite and artificial marble bed, so that the machine can obtain good thermal stability and vibration resistance, to ensure stable accuracy of the machine. For example, Bertot Hammer's C 650 U processing center has a mineral-cast stone bed body, and Code's Derthron V Mc50s U The base column of the five-axis vertical machining center is made of mineral cast stone material, the bed of the VMC80IV five-axis vertical machining center of Pusiningjiang is made of artificial marble material, and the EVO of DKSH is made of integral artificial granite structure.
2. High efficiency. Exhibits improve machining efficiency through double spindles, vertical and horizontal conversion heads and double working positions, such as MC528 TWIN double spindles double turntables five-axis vertical machining center and VIGELTW 320H Bi.Z horizontal machining center with double spindles and double tables. Some exhibits have automatic tray exchange function, such as The TH6513A precision horizontal milling and boring machining center of Jinan No.2 Machine. At the same time, high speed also ensures high efficiency. For example, The VMC40U spindle speed of Qinchuan Machine tool is 40000r/min, and the MC528 TWIN double spindle double five-axis vertical speed of Jolang Kailong is 75m/min. The GRaub G150's X/Y/Z speed is 70/50/80m/min and its acceleration is 6/6/11m/s²; Starag's X45 speed 80m/min, X/Y/Z acceleration 8/11/8m/s²; The MCM CLOCK EVO of Zhejiang Rifa accelerates the movement speed of 76m/min and the acceleration of 7m/s².
3. Exhibits using direct drive and direct link technology, shorten the transmission chain, improve the transmission stiffness, dynamic characteristics and accuracy. Such as Mazak VCE700D L vertical plus using direct spindle structure; Makino's E500 high-precision vertical engine is driven by double linear motors. Dalian Third base SVW80C five axis vertical spindle; Suzhou Jiama LV-800L vertical spindle adopts direct connection mode; Pushiningjiang VMC80IV five axis vertical using electric spindle; Bm10-h vertical spindle of Baoji machine tool adopts electric spindle; The CMC650u five-axis vertical spindle of Weida Heavy Industry adopts direct connection structure, B and C axis adopts torque motor direct drive, etc.
4. Intelligent technology has been further developed and widely used. Such as various sensing functions, adaptive and automatic compensation functions, prediction functions, various operation navigation functions, virtual and simulation, man-machine communication capabilities, etc., provide strong support for processing operations. Such as The MBR-5000H-E heat affinity, anti-collision, machining navigation, servo navigation intelligent technology. Such as Mazak's VARIAXIS I-700 intelligent thermal shield system, effectively control the thermal displacement of machine tools. For example, the NHC 6300 symmetric thermal insensitive spindle of DeMajisen Precision machine is fully cooled for temperature control, and the temperature is measured by multiple sensors and the signal is transmitted to the controller to form closed-loop feedback. For example, Pushiningjiang VMC80IV has temperature control technology to prevent thermal drift of the spindle.
5. Strong awareness of energy conservation and environmental protection. For example, from 2021, all machine tool production will be 100% carbon neutral, becoming one of the first industrial enterprises in the world to be climate neutral in carbon emissions. Through the use of modern heating, ventilation and cooling technologies, carbon emissions will be avoided. At the same time, the energy efficiency of machine tools is constantly improved. Energy conservation and emission reduction has become a development trend, and carbon neutrality will draw much attention.
Compound machine tools
Composite exhibits include milling/milling milling, milling milling, gear processing and milling, stamping and laser cutting, addition and subtraction, welding and milling, boring and milling, etc. Compound machine tool has a strong process compound and process compound ability, a clamping can complete multiple process processing, fully embodies the accuracy, efficiency and automation of excellent performance. Exhibits high-performance, multi-axis control, equipped with powerful software and hardware, such as intuitive and easy-to-use NUMERICAL control system, rich programming and processing software, advanced sensing and detection devices, direct drive and direct link functional components, industry 4.0 interface, etc. Turning and milling/milling machine can realize turning, milling, drilling, tapping, tooth making and other processing at any Angle position, and also can complete the processing of complex space surface. Turn-milling/turn-milling complex machine tool has a variety of sensing functions, adaptive and automatic compensation functions, prediction functions, various operation and navigation functions, virtual and simulation, anti-collision and other intelligent functions. For example, INDEX G420 turn-milling complex center of Indix, Integrexi-350H S horizontal turn-milling complex machining center of Mazak, MAkino L2 turn-milling complex machining center, Okuma MULTUS U3000 turn-milling complex machining center, WFL M50 turn-milling complex machining center, Demagicen NTX 1000 milling machine tool, Weilming-Macdel 508MT2 milling machine tool, HTM63150, DTM-B70S milling machine tool, KMC 800S of Kede CNC UMT turn milling complex machining center, FUxin International HT65PM turn milling complex machining center, Guangzhou Feihong FH100P-C turn milling complex machining center.
Fifth, Grinding machine tools
---
Post time: Mar-12-2022